My conversion to the KVM hyperadvisor (Day Two)
---
So, this is my second day working with totally converting from having and Vmware hypervisor. You can read the Day One blog here. Today I was task to install a few vm guests, totally wipe my main Vista x64 desktop and install Fedora 12 with KVM. Again I choose the base install during the Fedora 12 installation. Once it was installed I went and added the Virtualization packages.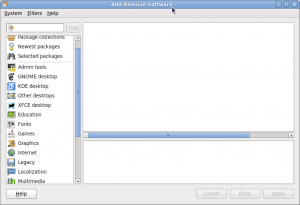 With the packages installed I followed a few instructions I found over at Howtoforge.com to create a bridge network.
I turned off NetworkManager.
#chkconfig NetworkManager off
#chkconfig -levels 35 network on
#/etc/init.d/network restart
Create the bridge interface configuration file.
#vi /etc/sysconfig/network-scripts/ifcfg-br0
Add the information below.

DEVICE=br0
TYPE=Bridge
BOOTPROTO=static
DNS1=yourdns
GATEWAY=yourgateway
IPADDR=youripaddress
NETMASK=yoursubnet
ONBOOT=yes
Change your eth0 configuration file.
#vi /etc/sysconfig/network-scripts/ifcfg-eth0
Command out the network information and add the BRIDGE=br0.
# Networking Interface
DEVICE=eth0
#BOOTPROTO=none
#DNS1=yourdns
#GATEWAY=yourgateway
HWADDR=00:1e:90:f3:f0:02
#IPADDR=youripaddress
#NETMASK=yournetmask
ONBOOT=yes
TYPE=Ethernet
IPV6INIT=no
USERCTL=no
BRIDGE=br0

Restart the network.
#service network restart
Start libvirtd.
# service libirtd start
Then start virt-manager as root.
#virt-manager
Once I was in virt-manager it's easy sailing. All the virtual managers are pretty similar enough if you use virtualization a lot. Creating a vm guest was simple and familar as well. The screen shots below shows the windows involved in creating a vm guest.
And after you have created the vm guest, you can view and change virtual hardware.
I was able to connect to the localhost and the remote host (over ssh) with no problem. I created some linux and windows vm guests using
So far all the vm guests I have created are on local storage. My next task is to configure remote storage so that I can do migrations from one host to the other.